What an awesome Christmas gift! 15lb of merino fleece, some prepared to spin roving and spinning supplies.Super excited!!!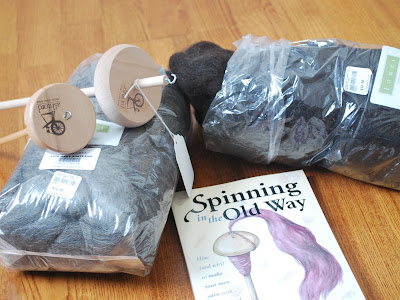 ...so I started to spin my my very First Yarn...
Fine black Shetland combed top/roving was easy to start with, thank you
"Little Red Mitten"
for all support and guiding to chose right materials and drop spindle! This what I spun from black Shetland top roving:
I love bright colors and my second choice was this beautiful purple merino tops...
It was a little more difficult to spin merino wool than Shetland and not easy to be consistent when drafting. But I like this "Thin and Thick" yarn style, it makes yarn unique, turning it into a piece of art... I fell in love with merino fibers from the first touch... It is absolutely soft - like a cloud, never wanted to stop spinning...
Last night I was plying my yarn until 3 AM :)) It is still wet and hanging down to dry... Just took picture of it and cant wait to knit something from my Very first Hand spun yarn :)